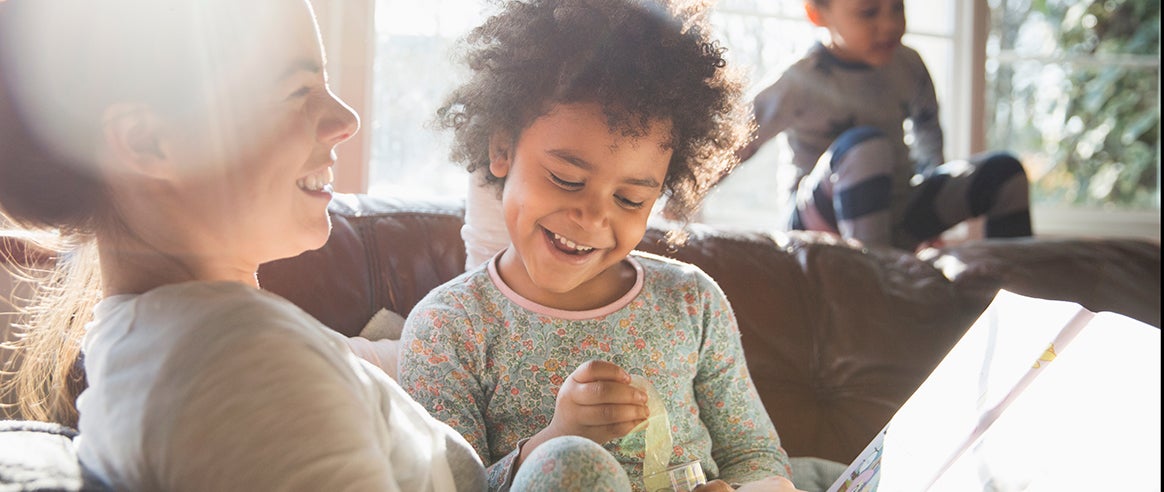 Serving our members – people like you – is at the heart of Randolph EMC. In this decade and beyond, Randolph EMC is working to provide powerful new services to our members and to strengthen local communities through innovative energy solutions, economic development and community enrichment. 
Reliable, Affordable, Sustainable Energy
Our members and local economy depend on reliable, affordable and safe electricity. Randolph EMC is embarking on new efforts to preserve reliability and affordability while also working toward significant sustainability goals.
Energy Tools and Innovation
By bringing existing and new energy resources together and enabling the direct participation of members, electric cooperatives in North Carolina are creating a modern electric grid that is more flexible, resilient and capable of supporting new energy solutions for members and the vitality of local communities.
Commitment to Community
Concern for community is a hallmark of the cooperative difference. Bright Ideas education grants, scholarships, zero-interest economic development loans, the deployment of rural broadband and other efforts are aimed at improving the daily lives of our members and strengthening our communities.
---
Reliable, Affordable, Sustainable  Energy
To us, sustainability means delivering reliable, affordable, low-carbon electricity over a grid that is more efficient, resilient and secure. We are utilizing new and existing resources to achieve a goal of net-zero emissions.
We've been planning for a brighter, more sustainable future for a long time. We've spent the past decade reducing our dependence on carbon-intensive power generation, and as a result, our current fuel mix is more than 50 percent carbon free. Coal-fired generation makes up only 5 percent of our portfolio, compared with the national average of 13 percent.
More than half of our power comes from emissions-free nuclear generation, an extremely reliable, safe and affordable source of electricity. Our early investment in nuclear energy has allowed our members and communities to benefit from the lowest carbon electricity in the Southeast. In addition, we are increasingly integrating renewables into our already diverse array of power sources as new technology, such as battery storage, makes renewable energy a more accessible option.
Looking to the decade ahead and beyond, Randolph EMC remains focused on providing electricity that is reliable, affordable and environmentally responsible. To achieve this low-cost, low-carbon future, we are working with the state's other electric cooperatives toward two significant carbon reduction goals: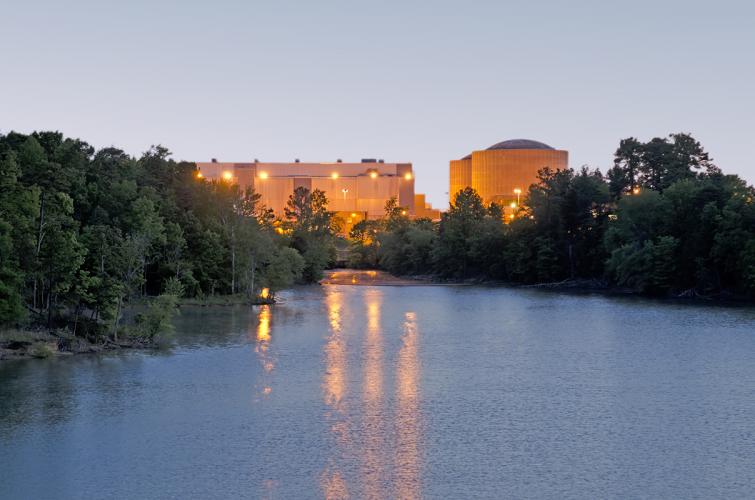 To meet these goals while maintaining reliability and affordability, we will continue to prioritize emissions-free nuclear as a key part of our energy future. Access to natural gas generation, which can be dispatched quickly when needed, will also continue to serve as a critical complement to our other power sources.
With other North Carolina electric cooperatives, Randolph EMC is testing and evaluating new energy solutions and innovative technology that will help reduce power costs and make our sustainability goals a reality. The cooperative network is coordinating thousands of resources — including solar, microgrids, batteries, electric vehicle chargers, and even smart thermostats and water heaters in our members' homes and businesses — to dispatch generation when it is needed and trim electricity use during times of peak demand.
This coordination within the grid is what truly sets electric cooperatives apart. Because Randolph EMC and other electric co-ops are based in and belong to the local communities we serve, new technologies enable our members to play an important role in shaping the future of the electric grid and making power more affordable, reliable and sustainable for everyone.
In addition, efforts to use electricity in new and beneficial ways to make devices and processes cleaner, smarter and cheaper–from electric vehicles to agricultural electrification–will help us further cut carbon emissions and reach our long-term carbon reduction goals.
Our Diverse Energy Mix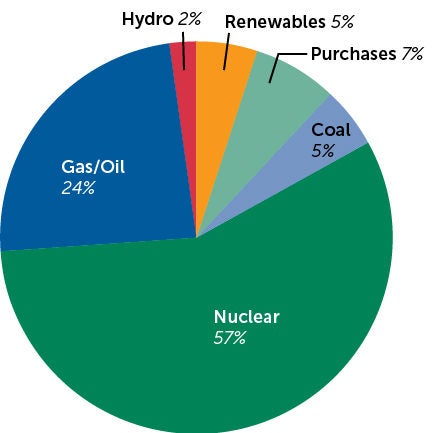 ---
Innovation & New Energy Tools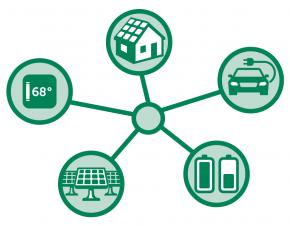 Here at Randolph EMC, we are constantly striving to serve our members in new ways. We are pursuing and applying new technologies that give members options to not only understand and control their energy use, but also play an active role in reshaping our electric grid, the network of resources and technologies used to produce and deliver electricity.
A radical transformation is occurring in the utility industry as new resources like solar, battery storage, microgrids and electric vehicles are added to the grid. Using a sophisticated energy management platform, we are carefully coordinating and dispatching these interconnected resources to meet electricity demand, balance traffic on the grid and ensure that power is reliable, affordable and environmentally responsible. By coordinating these resources, we are creating a virtual power plant that can offset the need to build traditional power generation, resulting in significant cost savings for our members.
Power no longer moves in a linear path from cooperative to member. Instead, it is generated by a wide variety of resources throughout the grid. Many of these distributed energy resources stem directly from members, including smart thermostats and water heater controls, residential solar, and even electric vehicles, which act as a battery and store energy while they are charging. North Carolina's electric cooperatives are also pursuing a range of innovative energy solutions, from microgrids to solar and storage, that further contribute to enhanced grid flexibility and efficiency.
Another benefit of distributed energy resources is the unprecedented operational insights they provide to electric cooperatives. These insights benefit members by letting cooperatives know that a piece of equipment needs to be replaced before it causes an outage. When an outage does occur, cooperative crews can be quickly dispatched to the precise location and restore power faster than ever before. 
Energy Services

Members have access to a variety of tools to help them understand and control their energy use. Access to daily digital meter data allows members drill into their electricity use by the hour if they choose. Members can even set high usage alerts to notify them when they've used more than a specified amount of energy the previous day. Both of these can help members save money on their own, but Energy Use Advisors are also on staff to help alleviate concerns and pinpoint problems free of charge if needed. Learn more here.

 

SunPath Community Solar®

Community solar offers a low-cost, low-risk way for cooperative members to benefit from solar technology. This collective solar effort provides a more affordable alternative to the traditional process of purchasing permanently installed solar equipment, and the shared solar model allows members to work together for the common good. Learn more here.

 

Energy Storage

The perfect complement to solar power, energy storage allows us to capture energy from a source and store it for use when needed, giving electric cooperatives new opportunities to provide better service and increased cost savings for cooperative members.

North Carolina's electric cooperatives, including Randolph EMC, are implementing solar and battery storage technologies to make the electric grid more resilient, dynamic, flexible and efficient. These investments support the cooperative promise to deliver the most reliable and affordable power possible and allow for the expanded integration of solar energy as we work to achieve a lower carbon future for North Carolina.

Deploying solar and storage technologies together makes solar energy a more versatile resource. Solar is only available when the sun is shining, but pairing it with battery storage allows the stored solar energy to be used as needed.
---
Commitment to Community
Randolph EMC is rooted in the communities we serve, and we remain committed to supporting our local communities and members.
We demonstrate this commitment to the community by giving back and investing in worthy programs that make a true difference in the lives of others: