Sharing Success Community Grants
Randolph EMC's core values guide our philanthropic efforts, and our People Helping People (PHP) program is one example of how the cooperative is dedicated to making a positive, lasting impact on the communities we serve.
The Sharing Success Community Grants Program is a special project of PHP, made possible through the generosity of CoBank, an industry lender. Community Grant funds are separate and apart from monthly member contributions to PHP.
CoBank allocates $4 million annually to match cooperatives' charitable contributions to nonprofit organizations in their local communities. For 2023, CoBank matched Randolph EMC's donation of $10,000 to PHP to provide a total of $20,000 in grant funding for nonprofit agencies in Randolph, Moore, Montgomery, Alamance, and Chatham counties.
Qualifying organizations may apply for up to $2,000 in funding to implement programs or purchase the necessary equipment to facilitate programs that will make a positive impact in the communities where Randolph EMC member-owners reside. Grant cycle has ended for 2023, applications for next grant cycle will open March 1, 2024.
You can view previous grant cycle winners by looking at this list of 2023 recipients. 
People Helping People is most effective when it focuses on helping people in need and providing support to community organizations that enjoy universal support among the members. Projects submitted for consideration should:
Positively impact a significant number of community members, and
Meet underserved or unmet needs in any of the following areas:

HEALTH & WELLBEING—meet basic human needs to ensure continued well-being;
FINANCIAL SUPPORT—provide support for families in income-challenged situations; or
EDUCATION ADVANCEMENT—provide or enrich learning opportunities for the community at large.
Timely applications will be evaluated based on the following criteria:
The potential to impact a significant number of community members;
The potential direct benefit to Randolph EMC members;
Level of community support for the program or project; 
Organization's capability to deliver a quality service or program and leverage resources through other funding, in-kind donations, volunteers, and/or partnerships;
Predictability of anticipated 12-month results;
Supported photos and diagrams; 
Effective use of prior grants; and
Equitable distribution of funds throughout the five-county service area.
Read more about Sharing Success Community Grant Guidelines and Restrictions.
A Recent Success Story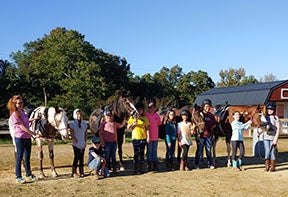 Spirit Horse Ranch - Asheboro
Spirit Horse Ranch was founded by Rosie Goldstein, who moved to Randolph County from Long Island, New York, in 2002. Upon arriving in the area, she had a vision to provide life-changing experiences for children through the healing power of the horse. Today that is the mission of Spirit Horse Ranch, her nonprofit. READ MORE
Apply By May 31, 2024
The application period for the 2024 grant cycle is March 1 – May 31, 2024. For additional information or questions, please contact Nicole Arnold at 336-625-5177 or Nicole.Arnold@RandolphEMC.com.
Submit an online Sharing Success Community Grant Application