Next Annual Meeting:
85th Annual Meeting
June 16, 2023
Southwestern Randolph High School
Registration, Entertainment & Exhibits open at 5 p.m.
Business Meeting begins at 6:30 p.m.
To see more details about this year's Annual Meeting, visit the 2023 Annual Meeting page
What Happens at an Annual Meeting?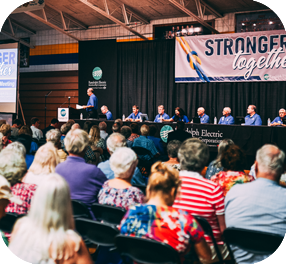 Business Meeting
During the business meeting, attendees receive the president's report, treasurer's report, CEO's report, report of the nominating committees, introduction of directors, elect directors and witness the administering of the Oath of Office. Unfinished business and new business conclude the meeting.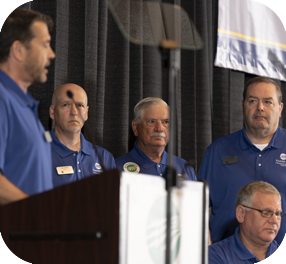 Director Elections
In addition to the business portion of the meeting, members will elect three individuals to represent their interests on the Board of Directors.  Randolph EMC's Board of Directors is comprised of nine members who meet monthly to hear reports, make decisions and set the strategic direction for the cooperative.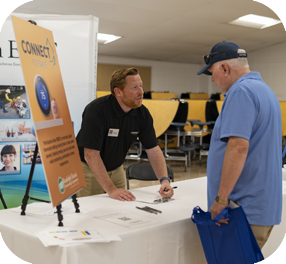 Exhibits
The Annual Meeting features several exhibits providing information about the many programs we offer that deliver value, help you to save money on your electric bill and make your lives easier.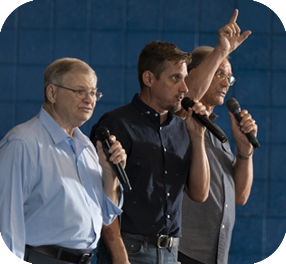 Family Entertainment
Enjoy live, family-friendly musical entertainment. Past meetings have featured such talent as The Harvesters, Ingrams Band, Flint Hill Bluegrass Band and many more! Be sure to check out the latest lineup on this year's annual meeting page.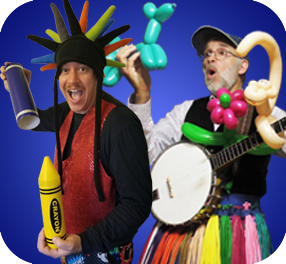 Children's Entertainment
During the meeting, parents may opt to allow the kids to enjoy some live entertainment suited just for them. Programs may include music, magician shows, interactive science demonstrations, etc. Be sure to check out the latest lineup on this year's annual meeting page.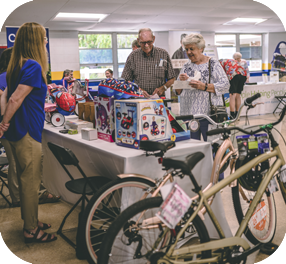 Prizes and Gifts
More than 100 door prizes are awarded at the end of the meeting, ranging from small appliances to local pottery. We also have a children's program that includes bicycles of all sizes and other fun prizes. Aside from door prizes, each registered member that attends will receive a gift at the conclusion of the evening. No one leaves empty-handed!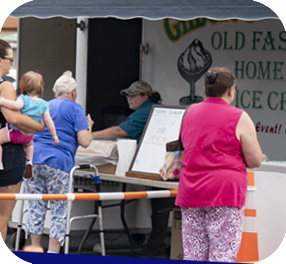 Summer Treats
Refreshing Treats are provided to help beat the summer heat. A fan favorite is Gilbert's Old Fashioned Ice Cream, which uses an original John Deere Hit 'N Miss Engine to churn homemade ice cream on site. Gilbert's base is a patented Amish recipe that continues to put lots of smiles on faces some 100 years later!
Select a year to view more details about a particular Annual Meeting